2017 Chevrolet Bolt EV & Cruze Hatchback
March 19 2018,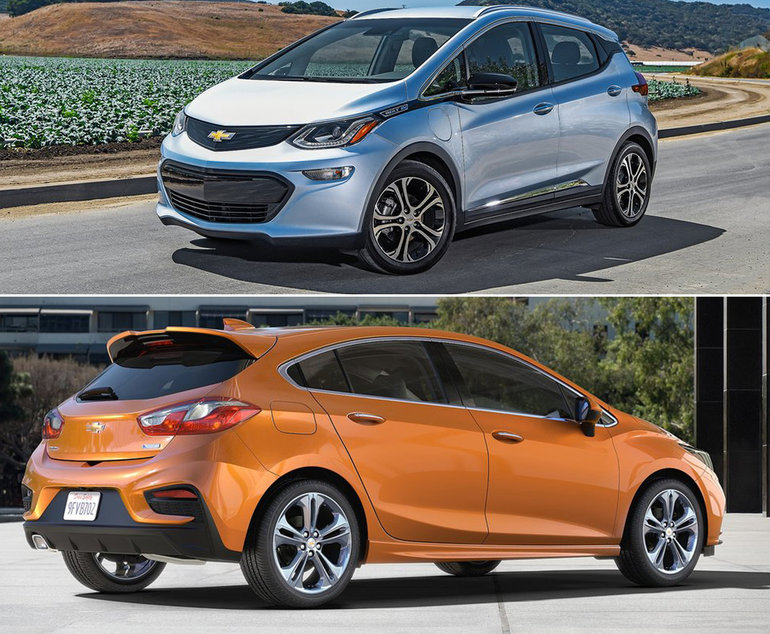 Chevrolet accelerates its product portfolio transformation with the Canadian debuts of the game-changing 2017 Chevrolet Bolt EV and the sporty and practical 2017 Cruze Hatch at the Canadian International Auto Show in Toronto. Following an outstanding year in 2015, Chevrolet Canada enters 2016 with 7 all-new, innovative and award winning vehicles.
"As we redefine Chevrolet with Find New Roads, we believe the future will be electric, connected, shared, autonomous and multi-modal," said Steve Carlisle, President and Managing Director, General Motors of Canada. "We are taking a big step into the future with the exciting new Chevrolet Bolt EV - an all-electric, battery driven Chevrolet with up to 320 kilometres of range and an affordable price."
The Chevrolet brand has significant momentum with several recent awards and accolades, including: Chevy Silverado - AJAC 2016 Best New Pickup; Camaro - Motor Trend Car of the Year and Car and Driver 10Best; Volt - Green Car of the Year; Colorado - Motor Trend Truck of the Year…. for the second time.
"Chevrolet is committed to being the most innovative brand in Canada delivering the best technologies and making them available across the line-up - not just on a few select models," said Laura Pacey, Brand Director, Chevrolet Canada. "Recognizing our customers need for connectivity, technologies like 4G LTE WiFi, Apple CarPlay and Android Auto, are now standard equipment on just about every Chevrolet."
Bolt EV
The Bolt EV will offer up to 320 kilometres of range on a full charge. It also features advanced connectivity technologies designed to enhance and personalize the driving experience.
The Bolt EV's connectivity innovations will provide smart, personalized solutions for managing the driving experience. Many of the Bolt EV's driver-focused technologies are supported by OnStar 4G LTE, which turns the Bolt EV into a Wi-Fi hotspot, giving owners easier access to apps and services via a high-speed wireless connection.
Cruze Hatch
An all-new, more rigid and lighter architecture is the Cruze's foundation for driving dynamism, while also playing a significant role in safety and efficiency. It is 91 kilograms (200 pounds) lighter than the previous-generation model due largely to a body structure that is 45 kilograms (100 lbs) lighter and an engine that's 20 kilograms (44 pounds) lighter.
The Cruze Hatch has the same, class-leading 2,700 millimetre (106.3-inch) wheelbase as sedan models, but features a unique roof and rear-end structure - including wraparound taillamps and an integrated spoiler at the top of the liftgate. It opens to offer 643 litres (22.7 cubic feet) of cargo space behind the rear seat. With the rear seat folded, cargo space expands to 1,336 litres (47.2 cubic feet).
About Chevrolet in Canada
Founded in 1911 in Detroit, Chevrolet is now one of the world's largest car brands, doing business in more than 115 countries and selling more than 4.8 million cars and trucks a year. Chevrolet provides customers with fuel-efficient vehicles that feature engaging performance, design that makes the heart beat, passive and active safety features and easy-to-use technology, all at a value.