2016 Hyundai Tucson
March 19 2018,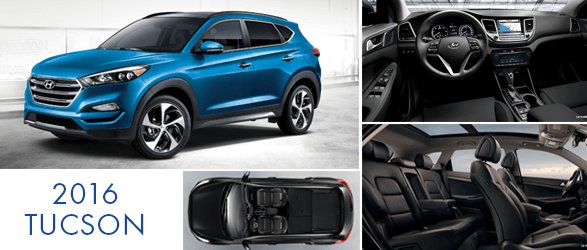 Style, Space, and Safety are necessities in a new car and can all be found in the 2016 Hyundai Tucson. These necessities make the Tuscon appealing to a buyer, but its additional features put it over the top. This new car, with its comfort and performance, will make the road feel like home.
To know the 2016 Tuscon, you must know about the very important safety and convenience features:
Lane Departure Warning - to make sure your car doesn't wander off the road even if your mind or eyes do.

Hands-Free Liftgate - to help you load up your car when your hands are full
Automatic Braking System - to stop your car even when you don't have enough time to
Rear Parking Sensors - to make sure you can back up without ever getting a bump or scratch on your new car
These features are important to keep you and your family safe, but that's not all the Tuscon has going for it. While you put your mind at ease knowing the car will keep you safe, the comfortable and spacious interior will help you relax while driving. The driver can find the perfect position with the 6-way adjustable seat and everyone else will stay happy with climate control throughout the car. And with 61.9 cubic feet of cargo space, you can really take the Tuscon for a trip anywhere.
The exterior of the Tuscon is just as stylish and satisfying as the rest of the car. This SUV is perfect for viewing the scenery with LED Lights on the outside and a panoramic sunroof that brings light to the inside. But let's face it, everyone's eyes will be focused on your sleek Tuscon rather than the scenery.
If you want to know if this Hyundai is a powerful performer, all you have to do is drive it. On the highway the SE gets an EPA estimated 31 MPG and the Eco, Sport, and Limited get 33 MPG. With Eco System technology and fuel efficiency, this car has no limits.
If you are interested in the 2016 Hyundai Tuscon or have any questions, please contact us or visit Surgenor Automotive Group.