2016 Chevy Spark
March 19 2018,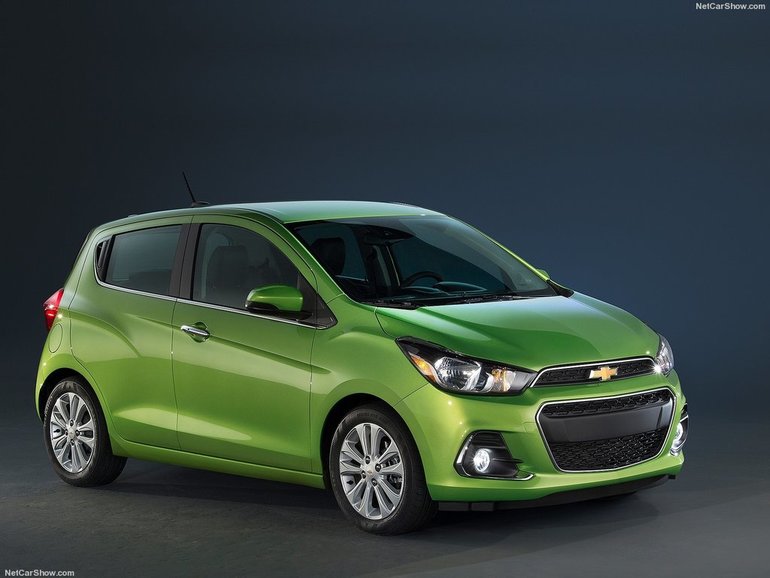 How Well Does the 2016 Chevrolet Spark Stand Up To Its Competition

When compared from the outside, the 2016 Chevrolet Spark and its competition all appear to be sporty cars that are easy to park in small spaces. But when you take a look at the inside, it is easy to see how the Spark is the superior car.
With an estimated 5.9 L/100 km highway and fuel efficiency, the Chevrolet Spark is loaded with more safety and technology features than any of its competition. Let's take a look at the Spark compared to the latest versions of the Mitsubishi Mirage and the Nissan Micra for a better understanding of which car really has it all.
Safety
The 2016 Chevrolet Spark has 10 airbags, anti-lock brakes, and a steel safety cage to keep everyone in the car safe at all times. It also comes with an available
back-up
camera, forward collision alert, and lane departure warning. Also available on the standard version of the Spark is the OnStar System with Automatic Crash Response for the first 6 months. This means the Spark has you covered to prevent accidents, keep you safe in case of accidents, and has a response system for after an accident.

The 2015 Mitsubishi Mirage, in comparison, has 7 airbags available for safety along with stability-control for your wheels. The 2015 Nissan Micra only has 6 airbags with stability-control and an automatic braking system. Both cars have standard safety features but do not appear to stand up to the same safety standards as the Spark.

Technology
The available OnStar system in the Chevrolet Spark also provides 4G LTE Wi-Fi so all the passengers can stay connected. Chevrolet MyLink is the touch-screen command center in the standard Spark, and the car also works with multiple apps such as Apple CarPlay, Android Auto, and the OnStar RemoteLink app (which can lock and activate your car horns and lights from anywhere).
The other two cars have Bluetooth hands-free phone systems and USB ports, but neither have OnStar, Wi-Fi, or app capabilities like the Spark does. The Micra does not have a touch-screen or navigation system either.
Your Best Interest at Heart <3
There is a clear winner when it comes to the 2016 Chevrolet Spark VS its competition. This car is safe, tech-savvy, and easy to drive. Whether you are in the driver's seat or a passenger along for the ride, the Spark will take care of you.
Please contact us at any of our 3 Surgenor GM Chevrolet dealerships in the Ottawa - Gatineau region.